Blue Ox Human Powered Tools
A Partial Listing
Barnes Combined Machine (1902)
Perhaps one of the most versatile woodworking machines ever built, the combined machine mixes the best features of a rip saw, cross cut saw, scroll saw, shaper, dado, and sander. Barnes came out with their first combined machine in 1876, and released their second and third models in 1886 and 1892 respectively. Our machine was built in 1902 and features the newer removable board design for dado attachments. It houses a seven inch blade, the table is 28" by 30", and the fly wheel is 24 inches. The scroll saw attachment is separate and takes about five minutes to equip, though in our shop you will typically see it set up for a cross-cut. Original cost: $40.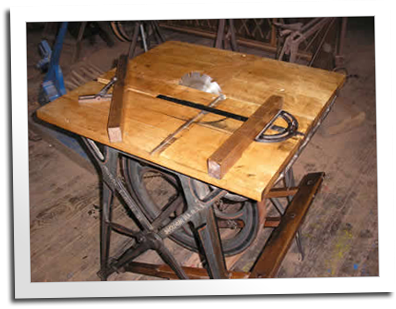 Barnes Rip Saw (1890)
This was the second rip saw designed by the Barnes brothers. It was produced from 1880-1935 and was designed as a practical alternative to steam powered milling. The saw can cut planks up to 19 inches wide and 3.5 inches thick and can run up to ten feet per minute. For hardwoods like ash or maple it can be slowed to two. It is powered by a hand crank and has a self feeding mechanism powered by two round leather belts. The feed tables are optional. Original cost: $40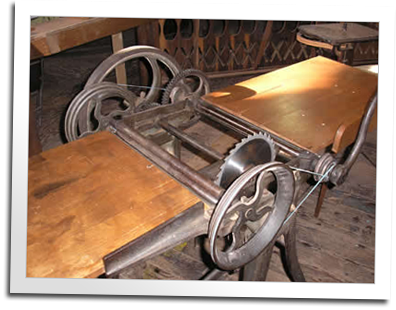 Barnes Velocipede #2 (1886)
This is probably the most efficient scroll saw ever built. It was so well-designed that it was still being manufactured out of aluminum in 2004, well past the heyday of human powered equipment. Our model is a type three, characterized by the use of its flat perforated belt. It has a twenty-four inch throat, an optional boring attachment, and a turning radius so tight that you can turn the blade around on itself and just leave a pinhole. It was designed primarily for use in pine and walnut, but it cuts through redwood like a hot knife through cheap margarine. We use it all the time in the construction of quality gables and window casements. Original cost: $18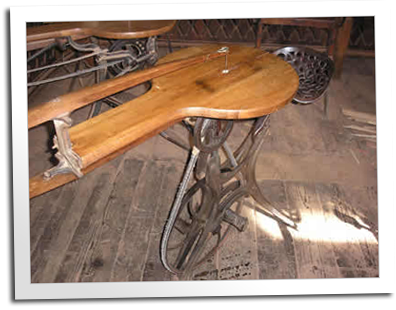 Barnes Treadle Scroll Saw #7 (1889)
This was the first tool built by the Barnes Brothers. The original design was from 1869 and featured a ratcheting fly wheel and a round leather belt. Later versions kept the wheel but switched to the flat perforated belt in the 1880s. Since this was their earliest tool it also underwent the most alterations. Ours is a type five, built in 1889. It has a twenty four inch throat, a seven inch blade, and can go at over a thousand strokes per minute. Original cost: $20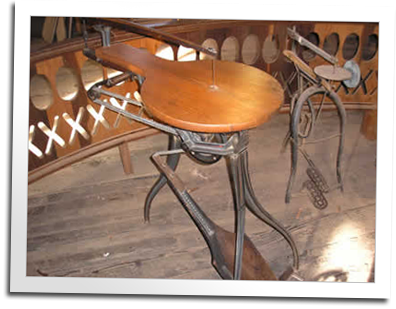 Barnes Wood Lathe #3 (1886)
This was the standard wood lathe turned out by Barnes Manufacturing in the latter part of the eighteen hundreds. It is a velocipede and features four offset pedals, (three inboard and one outboard). It has a twenty inch flywheel, is reversible, and can reach up to 2000 revolutions per minute. Ours is an early model type three distinguishable by the less ornate patterns on the bed. It has a tractor seat, a perforated belt and comes with all of its original attachments except for the secondary tool rest. Original cost: $40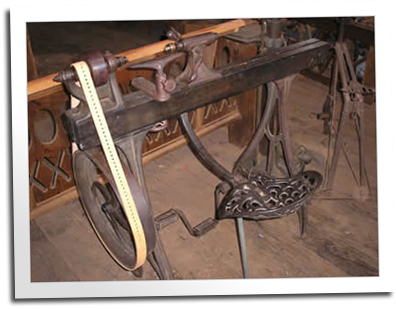 Barnes Mortiser (1892)
One of the rarer tools in our shop, this particular line of mortisers was only manufactured in 1892 and is in the transitional period between the wooden springs of the 1870s and 80s and the metal springs of later years. Though our mortiser features the metal spring, its casting is designed to house the traditional wooden bows. The basic design is a foot powered chisel, which can be rotated to set the two ends of the mortise. When used in conjunction with our tenoner it can make all the joints necessary for custom windows and doors. Another attachment can make slatted blinds. Original cost $20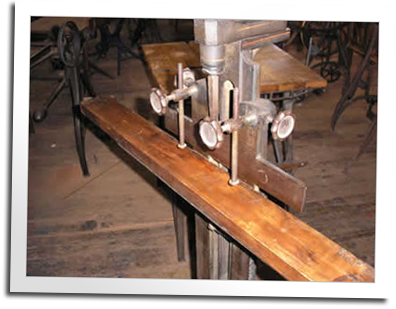 Barnes Hand Powered Tenoner (1892)
This is probably the rarest tool in our Barnes collection. It is a type 2 tenoner with a two-piece leveraged hand bar. The type 1 was introduced in 1879 and has straight legs and a one-piece hand bar. They never made a type 3. Ours can cut tenons on stock 2-12 inches wide, and comes equipped with two planes so that it can cut the top and bottom at the same time. Our copy is very rare, in that it has both of its planes, and its original clamp. It weighs a little over a hundred pounds (115 with sawdust!) Original cost: $25.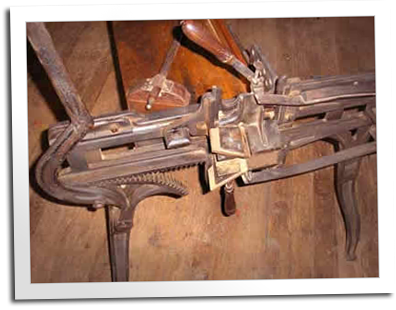 Barnes Dedicated Former (1886)
Today this tool would be classified as a shaper, most tourists recognize it as a router, but when it first appeared as an attachment for the Barnes Velocipede #2 it was listed as a wood former. Our model is one of the second model produced by Barnes and features the flat perforated belt and horizontal fly wheel. The table can be lowered by turning a wing nut directly below the smaller wheel. It can take stock up to seven inches thick and can be pedaled in either direction. It features a tractor seat and a thirteen inch fly wheel. Original cost: $20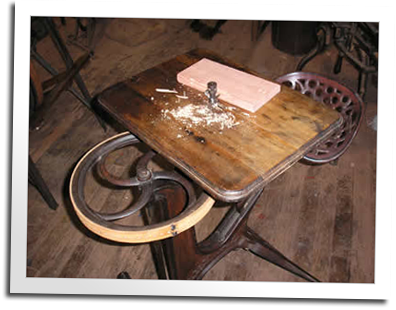 While the information on this website is believed to be true and accurate at the date of publication, neither the authors, webmaster, nor Blue Ox Millworks can accept any legal responsibility for any errors or omissions that may have been made. Prices listed on website are subject to change. © . Blue Ox Millworks. All Rights Reserved. Web Design by DHD