Victorian Moldings that Break the Mold
Most Victorian homes are filled with character.  Unfortunately, most older homes are also filled with cracked and deteriorated molding.  Molding comes in an almost infinite number of shapes and sizes, and each piece has a very definite history and purpose.  No matter what your molding needs, Blue Ox Millworks is ready to put the world's largest collection of molder knives to work for you. For more ideas about moldings for your project, visit our idea gallery here.
Like many popular architectural elements, modern moldings (or mouldings in Australia, Canada, and the U.K.) find their roots in ancient Greece and Rome.  Though moldings come in a nearly infinite number of shapes, most still utilize the basic profiles introduced by the Romans, including the ovulo (convex), the cavetto (concave) and the s-shaped cyma and ogee.
(At Right): A diagram of internal and external molding types from Dan Brett's book Tales From the Blue Ox. View a larger version of this diagram here.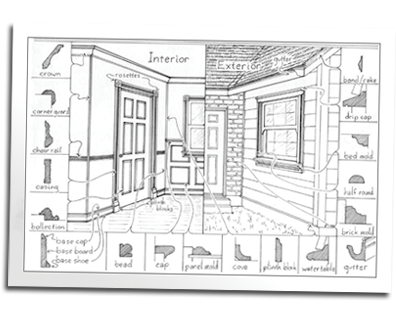 Most moldings are not structural, but they do serve a variety of purposes.  They hide joints between contrasting architectural elements, they serve as hand and bar rails and act as trim for windows and doors, and they are a beautiful decorative element.  A nice piece of molding is rarely recognized and appreciated on its own, but together with other architectural elements, it can make a regular den into a polished stateroom.
The majority of our custom moldings at Blue Ox are constructed on four sided molding machines from 1912 and earlier.  Our massive collection of molder knives (the world's largest) allows us to custom match any molding no matter the size or the construction.  For true historic accuracy (for moldings from early 1800's and earlier) we also have a large collection of hand planes. Whether you are looking for chair and picture rail, bolection, crown molding, corner guard, base board, wainscoting, or cap, Blue Ox can easily meet your needs.
(Far Left): Carefully placed moldings will accent any home.  How many types of molding can you see in this picture?  (Near Left): Eric holds a sample of 6" door casing from a recent job.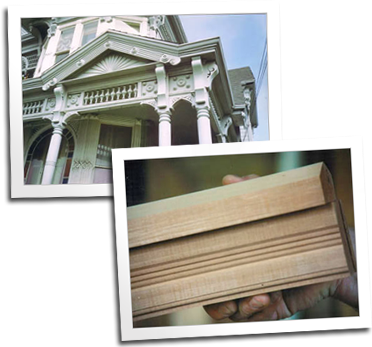 The Blue Ox Advantage
A modern rotary molder uses a round head and only small delicate knives, making it difficult for modern moldings to have cuts more than a half an inch deep.  The molders at Blue Ox use square heads with large steel plate knives, making them capable of making deep cuts up to four or five inches.  Sometimes one head may have as many as seven different knives at one time. 
With the over three thousand knives available at Blue Ox, there are an infinite number of possible profiles—and any time that we run up against a profile that we don't have, Eric grinds more knives.  It is this selection that makes Blue Ox a paradise for restoration experts or new home contractors who just can't find what they need at another shop.
(Right Top): Some Blue Ox moldings in a home in Cutten, California. (Right Bottom): Among other things, Blue Ox made custom handrail for the Ship's Inn.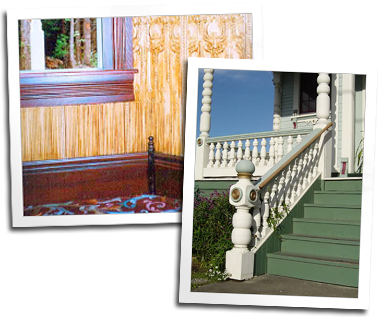 In fact, the Ox is the last place to go for some specialized kinds of molding. Undercut molding for instance (where part of the pattern seems to droop or overhang the rest of the molding) can only be cut on these older machines because two of their heads can be tilted.  This allows the knives to attack the wood at an angle, cutting up underneath an existing pattern.
Blue Ox Custom Siding
Also available from our molding shop are an infinite number of custom siding selections.  Siding is the largest visual part of any structure.  Most Victorians used a horizontal fancy siding design for the first and second floors with a shingle pattern often highlighting the remaining wall space.  At Blue Ox we can make custom siding in any shape, with a width of up to twelve inches per piece.
(Far Left): Blue Ox manufactured siding (as well as custom balustrades) for the Yurok Tribal office in Klamath (Near Left): An explanation of undercut molding from Dan Brett's book Tales of the Blue Ox.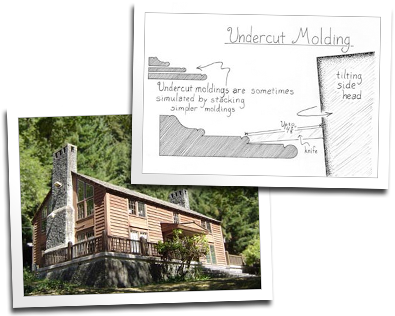 Though siding is often overlooked by the casual observer, it makes a huge difference in the feel of a building.  Different arrangements of siding and shingles can help provide the layered look that is so popular in Victorian homes.  It can even make a regular home look like a rustic log cabin.
Whatever kind of custom molding you need to finish your project, Blue Ox Millworks is the place to go.  Let Eric put his nearly 40 years of experience to work for you. Blue Ox custom moldings have been seen from Boston Massachusetts to the Leland Stanford mansion in Sacramento. Send us an email today to find out how the Ox can help your home.

(Far Right): Eric Hollenbeck in the molder shop, circa 1970s. (Near Right):  A piece of curved molding from the Blue Ox Molder shop.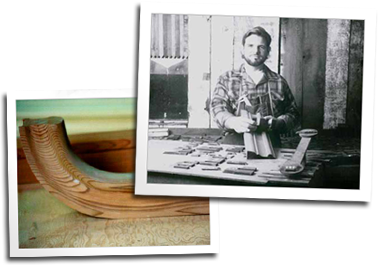 While the information on this website is believed to be true and accurate at the date of publication, neither the authors, webmaster, nor Blue Ox Millworks can accept any legal responsibility for any errors or omissions that may have been made. Prices listed on website are subject to change. © . Blue Ox Millworks. All Rights Reserved. Web Design by DHD