About Blue Ox Millworks
Blue Ox is a fully functioning Victorian job shop which produces custom architectural millwork, as well as interior and exterior details for historic homes and new construction projects around the United States. But it's more than that. Blue Ox is a school, a historic park, and a haven for craftsmen.
Blue Ox is the product of nearly four decades of work from master craftsman Eric Hollenbeck and his wife Viviana. It is a place where craftsmanship techniques of the last century are preserved and quality takes precedence over mass production. It's also a place where community comes together and lives are changed in positive ways. For this, and other reasons, Blue Ox was honored by a resolution before the California legislature.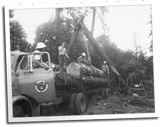 From its humble roots as a salvage logging company to the founding of its own radio station, read the history of the Blue Ox Millworks and its many community projects.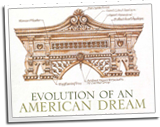 Over the decades, Blue Ox has received a lot of national media attention with over 35 magazine articles and 7 television programs. View digital copies of selected magazine articles here.
While the information on this website is believed to be true and accurate at the date of publication, neither the authors, webmaster, nor Blue Ox Millworks can accept any legal responsibility for any errors or omissions that may have been made. Prices listed on website are subject to change. © . Blue Ox Millworks. All Rights Reserved. Web Design by DHD