Custom Victorian Pattern Books
Over the course of three decades of making custom Victorian interior and exterior details, we at Blue Ox have run thousands of patterns. Most of these end up buried in our file cabinets once the job has been finished and never see the light of day again unless a similar challenge arises on a new project.
Occasionally though, a particular pattern catches our eye as being very functional or practical, something that may be of interest to other clients. These few lucky patterns make our way into our online pattern book.
The patterns here represent less than 5 percent of the patterns that we have run over the years. These are only suggestions intended to spark your imagination and encourage discussion.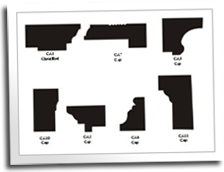 Whether you are looking for baseboard, door and window casings, crown molding, redwood gutters, or just miscellaneous molding tasks, this is the category for you.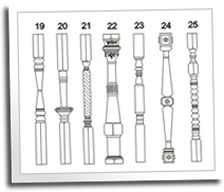 Whether the work is interior or exterior, if you need decorative scrollwork, turnings, columns, rosettes, or balusters, this is the category for you.
While the information on this website is believed to be true and accurate at the date of publication, neither the authors, webmaster, nor Blue Ox Millworks can accept any legal responsibility for any errors or omissions that may have been made. Prices listed on website are subject to change. © . Blue Ox Millworks. All Rights Reserved. Web Design by DHD