Nestled in the Peak of Every Detailed Roof is a Gable Decoration.
One of the most endearing symbols of fine architecture, the gable treatment has a rich history stretching back to the temples of ancient Greece.  To this day, it is one of the quickest ways to give your home the feel of fine craftsmanship.
We at Blue Ox have made a wide range of wood gables for homes across the country. Want a sunburst? Sure.  Hand carved elements? No problem!  We'll match any pattern.  Just send us a photo or even a pencil sketch, give us a few dimensions, and within weeks your home will look like something out of a fairy tale. Get ideas in our pattern gallery here.
(Near Right): Eric hand-carves a detail using original plans from an early 1900s carousel. (Far Right): This original wood custom gable was cut out on a scroll saw, hand carved and assembled by the artisans of the Blue Ox Millworks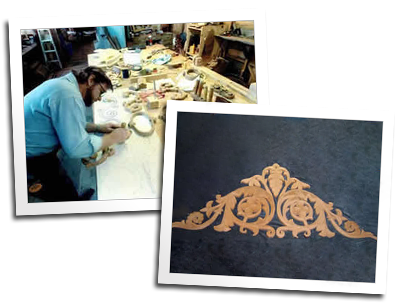 Eric Talks about Gable Decorations
"Gable Decoration... this term covers the myriad of designs and decorations that adorn the roof peak at the gable ends. It also covers the decorations that either make up or are applied to the barge boards making up the gable.
"One bit of trivia here that I find most interesting is the name itself. We of the architectural millwork industry have always been enthralled with jargon. From 'plinth blocks', 'rosette', 'casings and crowns', to 'Base boards, base shoe and base caps' we have names for every detail. Even in any given molding we have names for the  specific shapes found in that molding like 'ogee', 'ovals' , 'steps', and 'beads'. Why is it then that in a decoration so prominent and often very complex that the best name we can come up with is 'Gable Decoration'?
(Far Left):A piece of custom scrollwork sits on an 1880s era scroll saw.  (Near Left): This pair of gables contains custom scrollwork and a variety of turnings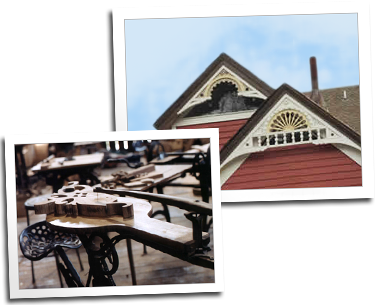 "In over thirty years of doing this work I have never heard it given any other name, I think this may be due to the almost infinite variations to the designs. They can be as simple as an elongated cross that is tucked tight to the peak of the roof line to a spider web of design complete with wood turnings and fretwork taking up a majority of the entire gable.
"In the Victorian world of architecture the Gable Decoration takes on a light and airy and almost whimsical look of cake decoration where in the Carpenter Gothic style the barge boards themselves become the decorations depicting hanging elements that very much resemble hanging icicles.
(At Right): Two more custom gables with sunbursts and hand carved elements.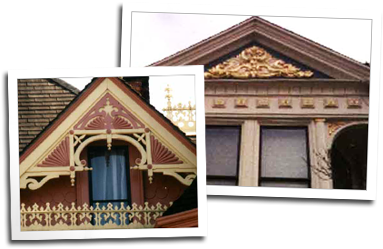 "In many houses such as the Victorian Farm House the gable decoration along with plinth blocks under the windows was the only true decorative elements of the house other than the front porch. It is this fact that shows the need to an almost limitless amount of design possibilities in order to make each home unique. "
Whether your home is a Queen Anne or a tract house, Blue Ox custom gables can add a touch of class and elegance to any abode.  Send us an email or call Eric at (800) 248-4259
(Far Left): A close up view of Eric carving a piece of gingerbread. Once the main components of the gable are cut out on the scroll saw, Blue Ox craftsman go to great lengths to make sure that each piece has a personality of its own.  (Near Left):This home on Regent Street in Alameda was the winner of the 2003 award for Alameda Historic Preservation.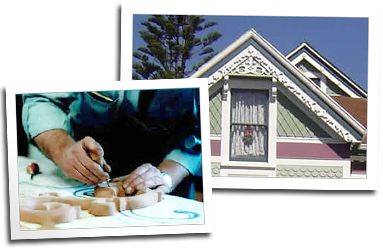 While the information on this website is believed to be true and accurate at the date of publication, neither the authors, webmaster, nor Blue Ox Millworks can accept any legal responsibility for any errors or omissions that may have been made. Prices listed on website are subject to change. © . Blue Ox Millworks. All Rights Reserved. Web Design by DHD