Custom Victorian Gingerbread For Your Home
Gingerbread houses aren't just for Christmas time.  Blue Ox Millworks manufactures a wide variety of fully custom gingerbread and scrollwork for homes across the country.  Whether your project is a classic Queen Anne or a Russian East Orthodox church, the artisans at Blue Ox stand ready to go to work for you.
Spandrels, sunbursts, paper doll balusters, redwood shingles, whatever your job may require, the craftsmen at Blue Ox know how to help. We have worked with nearly every element of Victorian architecture, and if we don't know how to make something, we'll find out.  We have a full Victorian job shop, with lathe room, shingle mill, molder shop, door and window shop, blacksmith shop, plaster shop, and nearly every woodworking tool from the Victorian era. Get ideas in our pattern book here.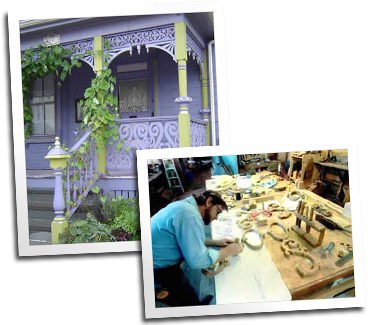 Spanning the Centuries
Most Victorian gingerbread these days is mass produced, but at Blue Ox we take great care with each ornament, often hand carving delicate historic elements, and most of our exterior work is done in salvaged all heart old growth redwood, so your ornamentation will last for a hundred years or more.  Eric Hollenbeck personally oversees each job, to make sure that his customers receive the same Blue Ox quality that has made our shop famous for over thirty years.  All of our gingerbread is fully custom.  We can work off of photographs, diagrams, or even just a quick sketch.
At Blue Ox, we have a tool for every job.  Whether you are looking for the pure authenticity of our human powered tool collection, or the blazing power of our automated shingle machine, whether you're looking for a crisp mortise and tenon joint, or just want some tongue and groove from our molder shop, Blue Ox are the suppliers for your millwork needs.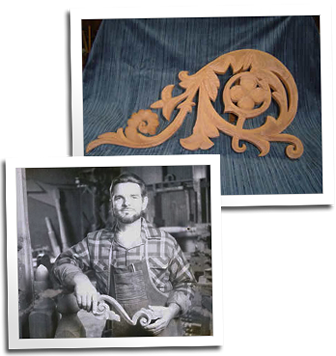 We Custom Make What You Need
Gutters • Corbels • Doors • Windows • Spandrels • Handrail • Rosettes • Plinth Blocks • Custom Molding • Finials • Columns • Balusters • Widow's Walks • Shingles • Board and Batten • Floor boards • Siding • Dentils • Window Casing • Paper doll Balusters • Corner Blocks • Sunbursts • Festoons • Gables • Brackets • Newel Posts • Cornice • Frieze • Mantles • Porticos • Lintels • Spindle work • Capitals • Chair Rail • Fretwork • Wainscoting • Arrowsmiths •  Decorative trim • Anything that your woodworking project might require.
Eric Hollenbeck has been working with wood for over forty years, and his expertise has been utilized by the president of the United States, the U.S. Cabinet, Senators, Governors' Mansions, historic parks and cathedrals, revolutionary war era forts, and thousands of others.  He is an expert in all levels of Victorian architecture and has helped to restore thousands of historical homes across the United States and Canada.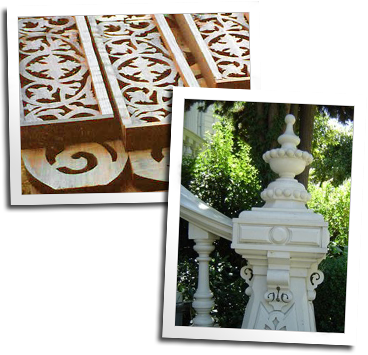 Not Your Typical Run-of-the-Mill Products
Blue Ox is more than just another manufacturer, we are a Victorian architectural job shop.  That means that we oversee every step in the creation of your architectural elements.  We have our own mill so that we can mill up all our lumber to dimension, just like they did in Victorian times.  Our two by fours are actually two by fours, not one and a half by three and a half.  We do the design work, we mill the lumber, we do the scroll work and turning, we hand carve, and we assemble the product so that all that needs to be done on site is to attach it and paint it.
Whether you need a portico, a pediment, or just an interesting touch for your door or window, the fine craftsmen at Blue Ox Millworks are ready to help.  Come to us for any restoration, renovation, replacement, or new construction.  Send us an email and ask about specifics for your project, or call the Blue Ox at (800) 248-4259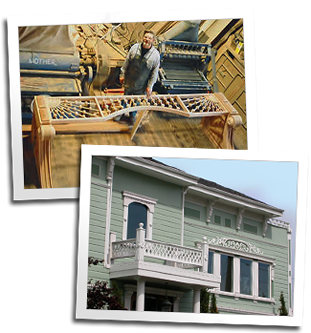 While the information on this website is believed to be true and accurate at the date of publication, neither the authors, webmaster, nor Blue Ox Millworks can accept any legal responsibility for any errors or omissions that may have been made. Prices listed on website are subject to change. © . Blue Ox Millworks. All Rights Reserved. Web Design by DHD