Blue Ox Authentic Wood Balusters Provide a Custom Look to Any Home.
A custom balustrade, a widow's walk, a porch that is the envy of all your neighbors?  Blue Ox can make it. We have made hundreds of balustrades over the years and we do all of our turnings by hand so we can cut the stock to match any shape.
Our artisans will carefully plot out your design using the age old method of story-sticking.  The first few balusters turned tend to vary a bit, but the hundreds that follow will look almost identical because a craftsman's hands have memory.  Have your memorable balusters made at the Blue Ox Millworks!
(Near Left): A set of wooden balusters made in the Blue Ox lathe room. (Far Left): Custom balusters, newels, and railing for a home in San Francisco.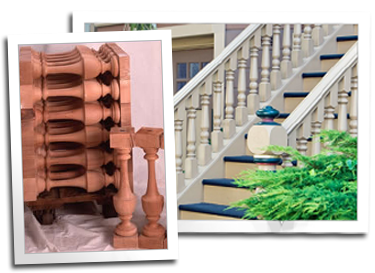 Eric Talks About Wood Balusters
"A balustrade is made up of Newel Posts, Top or Hand Rails, Bottom Rails and the Balusters.  Whether interior or exterior, it is the balusters that make up the visual bulk of the Balustrade assembly.  Balusters can be divided into three main categories, Turned, Fret Sawn, and Paper doll.
"Turned wood balusters in the balustrade make up the vast majority of all traditional work in Victorian architecture. The turnings are almost infinite in design from the heavy Grecian urn style to the very delicate and slender beaded and tapered style.
(Far Left): Custom Balustrade for a new construction project in Cutten, California. This project was featured in the August 2005 edition of Victorian Homes Magazine. (Near Left): Custom turned wood balusters await the assembly of a widow's walk bound for Napa, California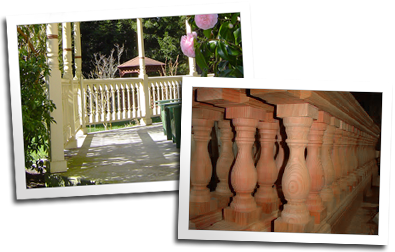 Balusters (Continued)
"This infinite variety of size and design can hearken images from Vikings yelling 'More ale Beertenderous' to the long flowing skirts of Scarlet O'Hara in Gone With the Wind.
"The Fret Sawn baluster is any baluster of a square design with cutouts on four sides making up beads and coves. Although nowhere as abundant in the architectural word as turned balusters due to the complexity of manufacture the fret sawn baluster is elegant in the proper setting.
(Right Top): Custom newels and sawn balustrade for the Schramsberg Winery in Calistoga, California. (Right Bottom): Custom widow's walk for the Noyes Mansion in Napa, California. This project was featured in the August 2006 edition of Victorian Homes Magazine.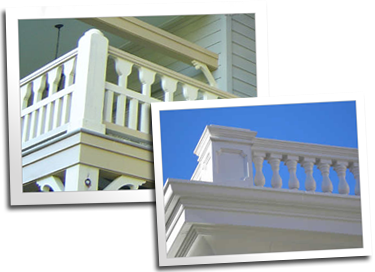 Paper doll Balusters
"The Paper doll (flat sawn) baluster is also fret sawn but out of 1" or 2" thick material with a width ranging from 4" to 8" wide. The interesting to note here is that it is not the design of the baluster that is important but the design of the space that the baluster leaves.
"No one will see the baluster itself but all will see the repeating negative space that is apparent when these balusters are put together.
(Far Left): This custom Blue Ox wood balustrade is made up of turned balusters, custom hand and bottom rail, newel posts and some custom turned finials from the lathe room. (Near Left): These Blue Ox paper doll balusters adorn a Russian-style home in Boston.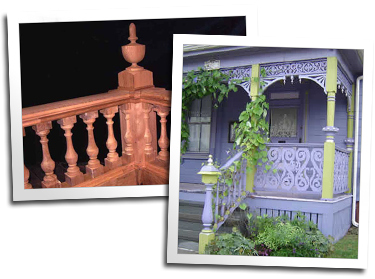 While the information on this website is believed to be true and accurate at the date of publication, neither the authors, webmaster, nor Blue Ox Millworks can accept any legal responsibility for any errors or omissions that may have been made. Prices listed on website are subject to change. © . Blue Ox Millworks. All Rights Reserved. Web Design by DHD